Torrents for the "Space Wolves" album:
FLAC
MP3
OGG
—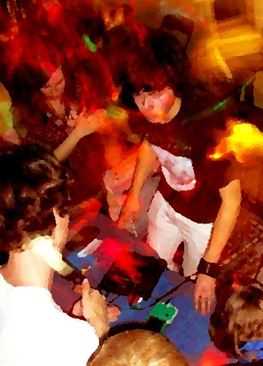 Artist/Group Name Y2lhen
Facebook page Y2lhen
Myspace TheY2lhens
LastFM Y2lhen
Bio:
Y2lhen AKA Lennie Budgell is an 8bit / dance music producer from Saskatoon SK.
Starting off his musical production with nothing more then a psp running LSDJ he began experimenting and creating chip tunes. These first song creations gained him a few shows around the local scene in Saskatoon. During this time he created and produced 2 albums.
The first, Set phasers to dance was the first album released by Y2lhen, and like his second album, you leave me empty like a dead pixel all songs were made with LSDJ, a tracker for gameboy. Both of these albums were released for free on Severed Digit Records. http://www.severeddigit.ca/
After these two albums he took a break from LSDJ and began working on a computer with buzz tracker and many various chip tune based VSTs. After much experimentation within buzz tracker Y2lhen came out with his third album, Jonestown Breakdown. This album was a mixture of fast paced breaks and breakcore mixed in with 8bit sounds at its core. This album was released on the net label Dex and the City records out of Latvia and has received over 1400 downloads to this date. http://dex.neirothe.net/
After this release Y2lhen gained more popularity and was getting more shows. Y2lhen played Sweet shows 1, 2 and 3, pop quiz party jam 1 and 2 and two MN8 Raves.
For his fourth album Y2lhen left the heavy 8bit themes behind and try his luck on some more dance style music. The release was called Dance Theory and was released on the net label Pop Quiz!!! Out of Saskatoon. (http://www.archive.org/details/pop_quiz) This album has been downloaded over 2900 times and gained y2lhen enough material to play at Connect 13 and more recently connect 14 and Ness creek.
For his fifth album, titled Space Wolves Y2lhen returns to his 8bit sound with a pounding dance sound. Soaring melodies and deep deep 8bit bass tones were the key in this albums production. This album is ready to come out on Pop Quiz Records (http://www.archive.org/details/pop_quiz) and also on the Canadian Pirate Tracker any day now.
For his next project Y2lhen is working with 1 Nintendo tracker to make a more traditional Nintendo sound, no outside samples, pure nostalgia. This project is yet untitled.
Y2lhen has given every album away for free so far and will continue to do so for as long as needed. All album downloads can be found most easily on the last fm page, links below.
—