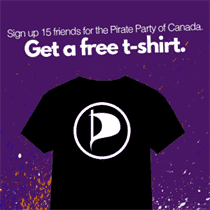 The Pirate Party of Canada is growing rapidly and we'd like to invite you come on board and participate as we change the face of politics in Canada. Whether you're a member, a potential candidate, or simply concerned about some of the issues with which we are engaged, we invite you to join our crew and be part of our growth.
Currently, we are:
Building local groups
Organizing events both on and offline
Keeping our members up to date.
Making pirate party artwork, websites, and campaigns.
Reaching out to new members.
And to do all these things we need:
People who like to make music, videos, art, animate, code, and edit.
People who want to change the world
Print this membership form and sign up some friends. If you sign up 15, we'll mail you a t-shirt. 🙂
Any questions? E-mail us.